• Fredericksburg Farms • Halloween • party food

Do you have any special Halloween traditions? One of mine is making homemade popcorn balls. My grandmother always made popcorn balls at Halloween when I was a child. I can see her popping the popcorn in a big heavy saucepan on the stove, then dumping the popped corn in a huge bowl, and lastly, she boiling a sugar syrup and pouring it over the popped corn. Then things happened fast…she buttered her hands and began forming the syrup coated popcorn into balls, placing them on wax paper to cool. When I make them now for our employees, and feel that...
---
• Fredericksburg Farms • appetizers • dips • party food • recipes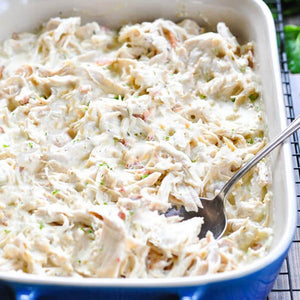 Last Friday we had an afternoon meeting to review sales in the sales department here at the farm. Our manager, Houston, brought a dip to share and OMG, it was a HIT! So, I decided to let you in on it if you need a great dip for your next meeting or occasion.  Our Farms product was the South Texas Salsa Verde. Here is the rest of the recipe.1 -  jar South Texas Salsa Verde1 -  8 oz. cream cheese2-3 cups - shredded chicken1 - bag of chipsCook the chicken, melt the cream cheese and add it all together with...