• Fredericksburg Farms

The temperature has been below 100 degrees for an entire week and the Texas Hill Country even received some rain in the last 5 days. Our granddaughter has asked me to buy pumpkins and to "cook something good", so maybe it is actually time to start fall holiday decorating and to start to bake things for the freezer. It seems like the year just races from September 1 until Christmas. I have been freezing "too ripe" bananas all summer as well as grated zucchini, so I will start with that. Banana nut bread, zucchini bread and pumpkin cranberry bread will...
---
• Fredericksburg Farms

Texas high school football never disappoints…from the plays on the field, to cheerleaders doing handsprings on the sidelines, and the marching band, flag corps, and dance team taking the field at halftime to entertain the fans in the stands. Then there is the fun of going to the concession stand for hot dogs and nachos slathered in cheese and trying to balance these taste treats while climbing the stairs returning to one's seat. Friday night lights in an outdoor stadium, chatting with friends, while keeping a loose eye on younger kids running crazy with their school friends giving high fives...
---
• Fredericksburg Farms
The date clearly says September, but is it Fall yet? The jury is still out! September weatherwise is often just an extension of summer, although the days are getting a bit shorter, they are still awfully warm. Where I notice it most is coming out of my office to eat lunch As I go to the car to drive home for lunch it is just plain hot…I guess I could just heat up my lunch leftovers on the dash of my car. It would save using the microwave or toaster oven. With that being said, I do find that as...
---
• Fredericksburg Farms
Meet some of our Fredericksburg Farms "Freshie Team!" This talented group of individuals create, manufacture and package our signature "Freshie" line of air fresheners. Working with cookie molds, resin beads, fragrance, color, and lots of glitter, they fill the molds which are then baked in our commercial ovens, cooled, removed from the molds, trimmed, hanging elastic added, and finally packaged and boxed to go into inventory…but not for long as these items fly off the shelves. Thanks "Freshie team!" You all sparkle! Click here to see Freshies!
---
• Fredericksburg Farms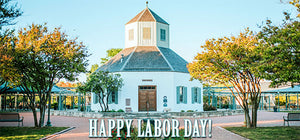 It used to be that Labor Day signaled the official end of summer, and most schools started classes after Labor Day. Not so today, some schools started the first of August and many schools have year-round classes. However, I do think that Labor Day picnics and cookouts are still a thing, at least in our area they are. So…what to fix for a crowd of friends and family…I'm thinking sticky ribs, grilled corn on the cob, tomato and watermelon salad, with pickled red onions, lots of iced tea or your favorite brews, and homemade ice cream! That should just about...