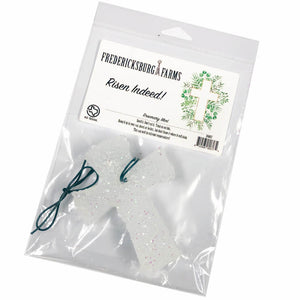 Fredericksburg Farms
Rosemary Mint Freshie
Regular price
$10.95
$0.00
Shipping
calculated at checkout.
Please note we do not ship to P.O. Boxes.
Risen Indeed!
Rosemary Mint
Rosemary and peppermint to create a crisp, clean scent to be enjoyed by all!
"Christ is Risen, He is Risen Indeed!" This well-known Christian saying celebrates the restoration of Jesus from the grave. After His crucifixion and burial, Christ rose from the dead in three days just as He foretold. Even so, His disciples were amazed by the miracle of Jesus's resurrection to fulfill His prophecy of defeating death and assuring our salvation through faith in Him. "He Is Risen" is the declaration that while Jesus sacrificed Himself for our sins, He lives now and forever as the Son of God.
---
More from this collection